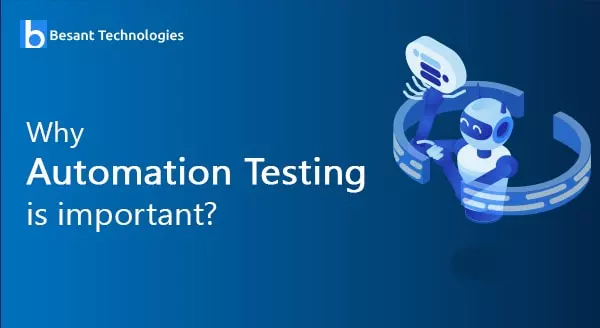 Automation Testing
Automation testing means using an automation tool to run your set of test cases. The automation software can also insert test data into the system under test, compare the expected and actual results and generate detailed test reports. The automation of tests requires considerable investments in money and resources. Successive development events require the execution of the same set of tests repeatedly. Using a test automation tool, you can record this set of tests and play it as needed. Once the test suite is automated, no human intervention is necessary. This has improved the ROI of test automation. The goal of automation is to reduce the number of test cases that must be performed manually and not completely eliminate the manual test.
Why Automation Testing is important?
Suppose any software has received new versions and bugfixes, so how will you ensure that the new software released with bug fixes has not introduced any new bug in the previous job functionality? Therefore, it is better to test the software with older features as well. It is difficult to manually test all software functions each time with the addition of some bug fixes or new features. Therefore, it is better to test the software each time by the automation test technique using the Automation Tool efficiently and effectively.
Do automation tests at the time of much regression work- A web application in which thousands of users access the application simultaneously. It is always difficult to think about how to test this application and how to create these many users manually and simultaneously. Then, it is better to go to the automation test.
Automate your test work when the GUI is the same, but often has many functional changes-This means testing this application where the codes change / the function changes frequently in certain GUI. More functional changes increase test work.
Become a Software Testing Certified Expert in 25Hours
Automation Testing Tools
Some of the popular automation test tools
HP QTP (professional rapid test) / UFT (unified functional test)
Selenium
LoadRunner
IBM Rational Functional Tester
SilkTest
TestComplete
WinRunner
WATIR
Different approaches to Automation Testing
The three main approaches you can consider to run the automation test are the following:
Code-Driven:
Here the focus is mainly on the execution of test cases to find out if the various sections of code work according to expectations or not. The code-oriented test approach is a popular method used in agile software development.
Graphical user interface (GUI) testing:
Applications that have GUIs can be tested using this approach. The testers can record the user's actions and analyze them as many times as necessary. The test cases can be written in several programming languages such as C #, Java, Perl, Python, etc.
Test Automation Framework:
The framework is a set of guidelines used to produce beneficial results from automated test activity. It gathers function libraries, test data sources, object details, and other reusable modules.
Advantages of Automated testing:
The automation test is faster in execution
It is cheaper compared to the long-term manual test
The automated tests are more reliable
The automated tests are more powerful and versatile
It is mainly used for regression tests
It is reusable because the automation process can be recorded
Does not require human intervention. Test scripts can run unsupervised • Help increase test coverage
Disadvantages of Automated Testing:
It is recommended only for stable products
The automation test is expensive initially
Most automation tools are expensive
It has some limitations, such as managing captcha, obtaining visual aspects of the user interface, such as fonts, colors, sizes, etc.
Great maintenance in case of repeated changes in requirements