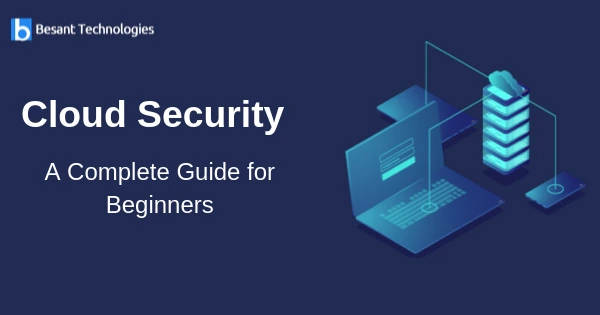 Cloud Security: A Complete Guide for Beginners
Cloud Technology has introduced a new era in the IT solution in terms of storage, flexibility, accessibility, and productivity. Because the cloud provides the provision of shared resources, it brings new security concerns overloads. Not only the exchange of resources but also identity management, access control, and privacy are the points of concern. So, for organizations that use cloud computing and cloud service providers, cloud security is a high priority. In this blog, we will cover what is cloud security and the different aspects of cloud security, such as possible risks, challenges, and solutions.
What is Cloud Security?
Cloud security is similar to IT security in local data centers. However, you do not need any hardware or maintenance installation. Cloud security solutions are delivered using software tools that protect and monitor the flow of information through cloud resources. Therefore, there is no need for physical storage devices or servers. Using a variety of security measures, we can prevent data theft, data leakage, and unwanted data deletion. In a broad sense, cloud security is a subdomain of information security that includes computer and network security. However, it has its own set of policies, controls, and technologies to protect data, applications and cloud infrastructure.
Challenges Of Various Cloud Securities
DDoS(Distributed denial of service (DDoS) attacks
A DDoS attack is designed to overwhelm site servers so that it can no longer respond to legitimate requests from users. users. If a DDoS attack is successful, it makes a site useless for hours or even days. This can result in loss of revenue, customer confidence and brand authority. Complementing cloud services with DDoS protection is no longer just a good idea for the business; It is a necessity. Web-based sites and applications are key components of 21st-century companies and require cutting-edge security.
Insufficient Due Diligence
For companies that do not have integrated capabilities to fully assess the implications of cloud adoption, the risk of implementing a platform that is inefficient and even insecure is real. Responsibility for specific data security problems must be fully defined before any implementation. Failure to do so may lead to a situation in which there is no clearly defined way of addressing potential risks and current security vulnerabilities.
Shared Technology Vulnerabilities
The use of bids in the public or hybrid cloud can expose a company to security vulnerabilities caused by other users of the same cloud infrastructure. It is the responsibility of the cloud provider to ensure that this does not happen, but no provider is perfect. It is always possible that a security vulnerability caused by another user in the same cloud affects all users.
Data loss
When critical business information is moved to the cloud, it is understandable to worry about its security. The loss of data in the cloud, whether by accidental deletion, malicious manipulation (i.e., DDoS) or an act of nature that reduces a cloud service provider, can be disastrous for the company's business. Often, a DDoS attack is only a diversion to a major threat, such as an attempt to steal or delete data. To address this challenge, it is essential to ensure that there is a disaster recovery process, as well as an integrated system to mitigate malicious attacks. . In addition, the protection of all network layers, including the application layer (layer 7), must be incorporated into a cloud security solution.
Notifications and alerts
Awareness and proper communication of security threats are a cornerstone of network security and the same is true for cloud security. Alerting the appropriate site or application managers as soon as a threat is identified should be part of a complete security plan. Rapid mitigation of a threat depends on clear and rapid communication so that appropriate entities can take action and minimize the impact of the threat.
What is Multi-Cloud Security?
Multiple cloud security protects the cloud infrastructure and everything in it. The responsibility for cloud security varies depending on the type of cloud. Cloud environments increase the attack surface of an organization and require security that can keep up with the agility and flexibility of those environments. In addition, to effectively monitor events, visibility across the network must be available, not only for an isolated cloud, but multiple clouds generally refer to the use of two or more cloud services, usually a combination of infrastructure. public as (IaaS) as AWS and Microsoft Azure. You can also include software implementations as a service (SaaS). In addition, companies tend to have private cloud implementations, and all these workloads must be protected no matter where they reside. Therefore, multi-cloud security addresses the challenge of protecting the growing attack surfaces that result from multiple cloud implementations.
Cloud Security Solutions
Protected cloud infrastructure is now a commodity every modern business needs to have to stay competitive. Learn more about our cloud security solutions and how we can create a security strategy that meets the needs of your business. From cloud incident response to the resources to select a managed cloud security service provider (MSSP), learning how to protect your valuable data is essential.