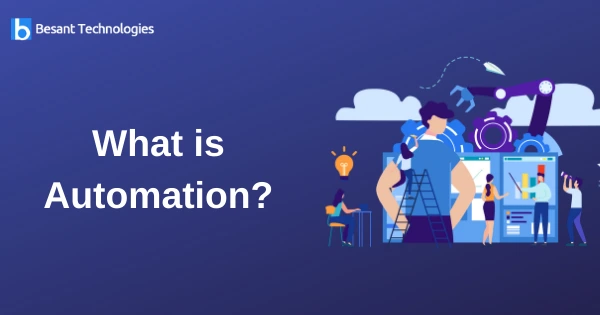 What is Automation?
Automation is the Formation of technology and its application to control and monitor the production and delivery of various goods and services. Performs tasks that were previously performed by humans. Automation is being used in many areas, such as manufacturing, transportation, public services, defense, facilities, operations and, lately, information technology.
Automation in Manufacturing
In the last 20 years, technology has changed the nature of manufacturing. In the past, manufacturing and manufacturing were handmade by people. Now that computers and technology have entered the industry, automation has become a competitive advantage in today's industrial world. Automation has allowed companies to produce mass products at impressive speeds with great repeatability and quality. Automation has become a determining factor in determining whether a company remains competitive in the manufacturing industry. While automation constantly sets the industry standard and has many advantages, there are also some disadvantages to automation.
Scope of Automation
The automation strip is the area of your application under test that will run automatically. The following points help to define the scope:
A critical characteristic of the business
Scenarios that contain a large amount of data
Functions common to all applications
Technical feasibility
Scope of reuse of commercial components
Complexity tests of business cases
Possibility of using the same test cases for cross-browser tests
Needs and Importance
The need for automation is felt for the following reasons. These reasons emphasize the importance of automation. The reasons are:
Automation provides efficient and detailed information through the use of mechanical aids such as computers
Ensures fast recording. Information processing and presentation
Increasing workload, time constraints, and slow manual processes require the introduction of automation
Facilitates better quality work by reducing errors created in manual work
The revolution of the Office was triggered by automation, because the greater workload is done better, with greater precision and speed, due to automation. This process results in increased production.
Automation increases the goodwill and reputation of the company because it increases the prestige and status symbol of the company.
Benefits of Automation
lower operating costs
Robots can do the work of three to five people, depending on the task. In addition to labor cost savings, energy savings can also be significant due to lower heating requirements in automated operations. The robots optimize the processes and increase the precision of the pieces, which means a minimum waste of material for their operation
Greater worker safety
Automated cells eliminate workers from dangerous tasks. Your employees will be grateful to protect you against the risks of a factory environment
Short delivery times
Automation can maintain its internal process, improve process control and significantly reduce delivery times compared to outsourcing or overseas marketing
Faster ROI
Automation solutions are based on your unique needs and objectives and are quickly amortized due to lower operating costs, lower delivery times, higher production and more • Ability to be more competitive
Automated cells allow you to reduce cycle times and cost per piece, improving quality. This allows you to compete better on a global scale. In addition, the flexibility of robots allows you to reorganize a cell to exceed the capabilities of your competition
Increased production
A robot has the ability to work at a constant and unattended speed 24 hours a day, 7 days a week. That means you have the potential to produce more. New products can be introduced faster in the production process and programming of new products can be done offline without interrupting existing processes.
Disadvantages of Automation
Capital expenditure
While automation can be highly effective and offer a positive ROI, it may also require a very high cost of capital. That is why, before making a decision, we recommend that you consider the required investment and also the ROI you hope to achieve. When calculating ROI, it is important to include an increase in performance, reduction of labor costs and reduction of defects/withdrawals, together with capital expenditures before deciding whether or not an argument exists. Use the Granta project creator to find out how much your custom automation solution would cost in just a few minutes.
Gets rid of jobs
It is true that with the introduction of automation there are some jobs that can become redundant, but this does not necessarily have to be a negative implication of automation. Instead of the staff performing numbing, monotonous or unpleasant tasks, you can receive training to transfer to work in other areas of your company. Many companies have discovered that after automation was installed, they saw an increase in sales, creating more jobs in different parts of their business.
Bespoke automation becomes redundant when production processes change
As with any type of machinery, if you change your production process or product that you are manufacturing so that a particular machine is no longer part of the process, the machine will become redundant. Therefore, it is very important for the future test of any automation installed in your production process. A qualified automation company will design its automation system to allow it to easily adapt to changes in product design or production process. For example; Using standard flexible automation, such as robots, can easily be used anywhere else in the manufacturing process, even if the existing process becomes redundant.