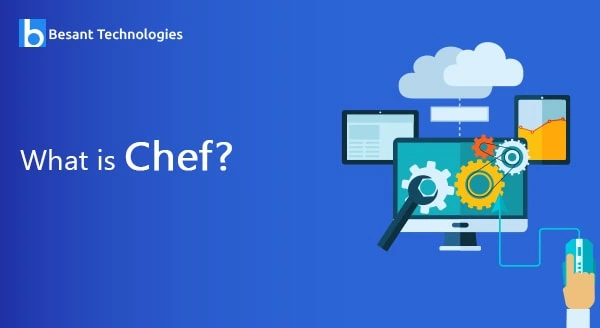 What Is Chef?
The Chef is a configuration management tool that manages the infrastructure by writing code instead of using a manual process so that it can be automated, tested and easily implemented. Chef has a client-server architecture and supports multiple platforms such as Windows, Ubuntu, Centos, and Solaris, etc. It can also be integrated with cloud platforms such as AWS, Google Cloud Platform, and Open Stack, etc.
How Chef Works?
The Chef DK, a software development kit, includes:
Cooking, ChefSpec, Cook style and Foodcritic tests for testing
A tool that detects common system details
Chef and knife command-line tools; and
the InSpec audit framework.
Chef uses code packages called recipes, compiled in cookbooks, to define how to configure each managed node. A recipe describes the state in which a resource should be at any time. Chef compiles recipes in cookbooks, along with the necessary dependencies and files, such as attributes, libraries, and metadata, to support a specific configuration. The client's chef is installed on all nodes to perform the actual configuration and uses the Ruby programming language. Agent-based configuration management extracts information from a central repository, Chef Server, in a model that overcomes poor network connectivity. and allows flexible update releases.
The modification of policies and the implementation of policies are independent. Chef Server runs on any major Linux distribution. A user can share cookbooks on GitHub or Chef Supermarket, allowing other Chef users to use and manage their own versions of these cookbooks. An administrator can define operational processes with the policy function in Chef Server. The administrator can use the policy to define server types, identify stages of the environment, assign data types and specify cookbook details. InSpec also provides a way for IT organizations to discover what is currently implemented and how which helps security professionals to ensure that implementations comply with regulations.
Get Chef Training with Real-Time Project
The need for Configuration Management
Don't worry, there won't be a great definition of configuration management in this blog. Let's understand configuration management in this way: let's say you need to implement software on hundreds of systems. This software can be an operating system or a code, or it can be an update of the existing software. You can perform this task manually, but what happens if you need to finish it overnight, because tomorrow it could be a large sale of billions of days in the company or some Mega Sale, etc. where a lot of traffic is expected. Even if you could do this manually, there is a great chance of several mistakes on your big day.
And if the software you have updated on hundreds of systems does not work, how will you go back to the previous stable version? Can you perform this task manually? AF: Of course not! To solve this problem, Configuration Management was introduced. Using configuration management tools such as Chef, Puppet, etc., you can automate this task. All you have to do is specify the configuration on a centralized server and, therefore, all nodes will be configured. It allows access to an accurate historical record of the state of the system for project management and audit purposes.
Basically, we need to specify the configuration once on the central server and replicate it on thousands of nodes. Configuration Management helps you perform the following tasks in a very structured and easy way:
Find out which components will change when the requirements change
Redo an implementation because the requirements have changed since the last implementation
Return to a previous version of the component if you replaced it with a new but failed version
Replace the incorrect component because you could not determine precisely which component should be replaced
Features of Chef
Chef uses the popular Ruby language to create a specific domain language.
The chef does not make assumptions about the current state of a node. It uses its mechanisms to obtain the current state of the machine
The chef is ideal to implement and manage servers, storage, and software in the cloud.
Advantages of Chef
Chef offers the following advantages
Lower entry barrier: because Chef uses Ruby's native language for configuration, a default configuration language, anyone with some development experience can easily identify it.
It can be easily integrated with any of the technologies in the cloud. It is the best tool for an organization that wants to implement its infrastructure in a multi-cloud environment.
Disadvantages of Chef
One of the main disadvantages of the Chef is the way in which cookbooks are controlled. You need constant attention so that people at work do not mess with other cookbooks
The only Chef is only available
In the current situation, it is a good option for the AWS cloud
It is not too easy to learn if the person does not She is familiar with Ruby.
Documentation is still missing.