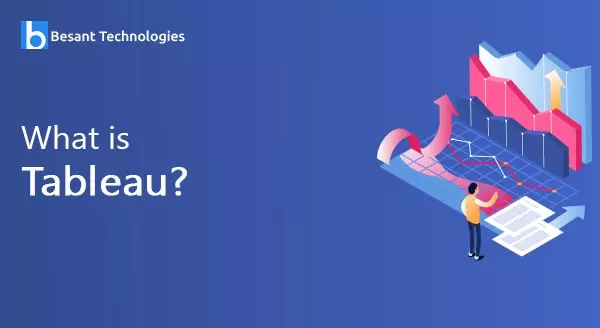 What is Tableau?
Tableau is a powerful and fast-growing data visualization tool that is used in the Business Intelligence industry. It helps simplify raw data in an easily understandable format. The analysis of the data is very fast with Tableau and the views created are in the form of panels and spreadsheets. The data created with Tableau can be understood by professionals of any level in an organization. It even allows a non-technical user to create a custom control panel. The best feature of Tableau is
Blending of data
Real-time analysis
Data collaboration
The best thing about Tableau software is that it does not require any techniques or programming skills to operate The tool attracted the interest of people from all sectors, such as companies, researchers, different industries, etc.
  Become an Tableau Expert With Certification in 25Hours
How Does Tableau Work?
The main job of the Tableau software is to connect and extract data stored in multiple locations. You can extract data from any platform. Tableau can extract data sources from any database, be it Excel, PDF, Oracle or even Amazon Web Services. When it starts, the ready-to-use data connectors are available, allowing you to connect to any database. The extracted data can be connected live to the Tableau data engine, Tableau Desktop.
It is at this point that the data analyst and the data engineer work with the data that has been extracted and develop the visualization. The panels created are shared with the users in the form of a static file. The users who receive the panels show the file using Tableau Reader. With Tableau Server, end users can access files from all locations, be it a desktop computer or a mobile phone. As you can see in the screenshot below, the Tableau Business Intelligence and Data Visualization tool has been placed in the leader quadrant for seven years on the same path in 2019 on the Business Intelligence and Analytics platforms of the IT research firm Gartner.
An Overview of Different Tableau Products
Tableau Desktop
Tableau Desktop is a business intelligence and data visualization tool that can be used by anyone. It specializes in transforming flat tabular data into representations and graphical representations. With the desktop box, you can take advantage of real-time data analysis by connecting directly to the data in your data warehouse. You can easily import your data into the Tableau data engine from multiple sources and integrate them by combining multiple views in an interactive panel.
Tableau Server
Tableau Server includes all the functions of Tableau Desktop in addition to network functions. With Tableau Server, you can share panels created in Tableau Desktop. This makes it an ideal choice for projects and business-level reports. When you take advantage of real-time data processing, this can become a very powerful tool to guarantee instant communication of data and knowledge.
Tableau Online
This is a hosted version of the Tableau server. In general, it works with the help of cloud computing so that the software is available to everyone. This allows faster and easier access to business intelligence in transit. You can publish panels created in Tableau Desktop and share them with colleagues.
Tableau Reader
This is the free desktop version of Tableau. Your resources are limited to only see the views created in Tableau. This means that you can filter and drill down the data, but you can not edit or perform any type of interaction or editing.
Tableau Public
This is a free version of the Tableau software that can be used to make visualizations. The drawback is that you need to save your workbook and your views on Tableau Server, which anyone can access.
Get Tableau With 100% Practical Training
Tableau Features
Tableau provides solutions for all types of industries, departments and data environments. These are some of the unique features that allow Tableau to handle a variety of scenarios:
 Analysis speed
because it does not require a high level of programming experience, any user with access to data can start using it to obtain value from the data.
 Confidence in itself
Tableau does not need a complex software configuration. The desktop version, which is used by most users, is easily installed and contains all the necessary functions to start and complete the data analysis.
 Visual detection
the user exploits and analyzes the data using visual tools such as color and trend lines. , tables and graphs. You should write a very little script since almost everything is done by dragging and dropping.
Combine multiple data sets
Tableau allows you to merge different sources of raw, semi-structured and relational data in real time without costly initial integration costs. Users do not need to know the details of how the data is stored.
Agnostic architecture
Tableau works on all types of devices in which information flows. Therefore, the user does not have to worry about specific hardware or software requirements to use Tableau.
Collaboration in real time
Tableau can filter, classify and discuss data in real time and incorporate a live board in portals such as SharePoint or Salesforce. You can save your data view and allow colleagues to register on their interactive boards so that they can see the latest data just by updating the web browser.
 Centralized data
the Tableau server provides a centralized location to manage all the published data sources of the organization. You can delete, change permissions, add labels and manage schedules in a convenient location. It is easy to schedule extraction updates and manage them on the data server. Administrators can centrally set a schedule for extractions on the server for incremental and full updates.