Selenium Training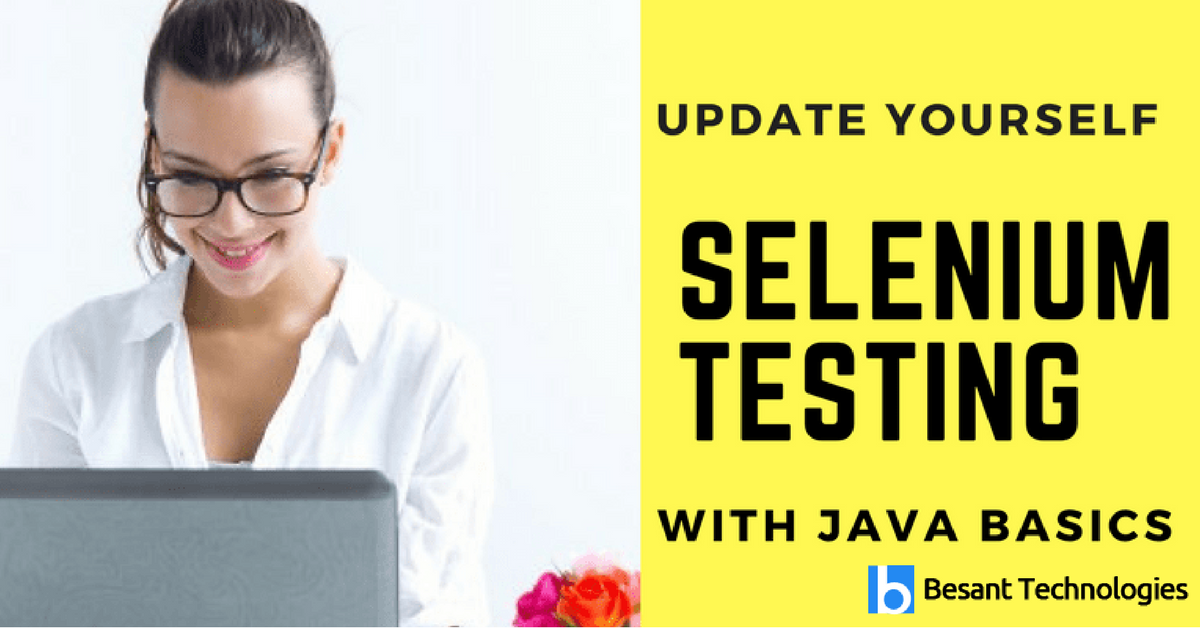 Besant Technologies offers best Selenium Training in Bangalore with most experienced professionals. Our Instructors are working in Selenium and related technologies for more years in MNC's. We aware of industry needs and we are offering Selenium Training in Bangalore in more practical way. Our team of Selenium trainers offers Selenium in Classroom training, Selenium Online Training and Selenium Corporate Training services. We framed our syllabus to match with the real world requirements for both beginner level to advanced level. Our training will be handled in either weekday or weekends programme depends on participants requirement.
Classroom Training
BTM Layout: +91 - 762 494 1772/ 4
Marathahalli: +91 - 910 812 6341/ 2
We do offer Fast-Track Selenium Training in Bangalore and One-to-One Selenium Training in Bangalore. Here are the major topics we cover under this Selenium course Syllabus Introduction, Selenium Architecture, Locator Techniques, Selenium IDE , Selenium setup, Selenium RC, WebDriver, Testing, AutoIT, Selenium Grid.Every topic will be covered in mostly practical way with examples.
Besant Technologies located in various places in Bangalore. We are the best Training Institute offers certification oriented Selenium Training in Bangalore. Our participants will be eligible to clear all type of interviews at end of our sessions. We are building a team of Selenium trainers and participants for their future help and assistance in subject. Our training will be focused on assisting in placements as well. We have separate HR team professionals who will take care of all your interview needs. Our Selenium Training Course Fees is very moderate compared to others. We are the only Selenium training institute who can share video reviews of all our students. We mentioned the course timings and start date as well in below.
Selenium Web Driver 3.0 Training Course Syllabus
Duration : 42:00:00
Understand Oops /java concepts
Understand Selenium IDE, RC
Understand Selenium WebDriver tool in depth, it's features & components
Building a new Test Framework by using Web Driver, Test NG and Maven
Selenium Introduction
Duration: 03:00:00
What is Selenium and Why Selenium
Use of Automation Testing?
Explanation of Selenium and its advantages
Differences between Selenium and QTP
Selenium Components
Introduction of selenium Components
OOPs concepts and Core Java Introduction
Duration: 10:00:00
OOPs concepts
Setup Java environment – Download JDK and Setup eclipse
Java programming concepts

Class, Object, variables, methods, Packages
Conditions and loops
Access and non-access modifiers

Advanced Java Programming

Interfaces, Inheritance
Collections, Exceptions
Selenium IDE and RC Introduction
Duration: 04:00:00
Installing Selenium IDE
"Selenese" – Selenium Commands
Actions, Asserts, Assessors.
Developing Test Cases & Test Suites with Selenium-IDE
Introduction to Selenium RC
Installations
Duration: 02:00:00
eclipse-Oxygen
JDK 1.8
Firefox 47.0.1 , firebug and firepath
Set up TestNG, Maven and Selenium (2.53.1 &3.0 +) for eclipse
Selenium WebDriver 2.0 and 3.0 Introduction
Duration: 10:00:00
Selenium WebDriver Introduction
WebDriver Vs RC
Download and Configure WebDriver with Eclipse
Simple Testcase
Open and Close Browser
Cross Browser Testing – Firefox, IE, Chrome, Edge.
UI elements Locators.
Identifying WebElement using id, name, link text, class, xpath, css
Handling various WebElement using WebDriver
Handling Mouse movements and keyboard Events
Gecko-Driver
File uploading using Auto-It and Robot.
Testing Framework and Tools
Duration: 05:00:00
Introduction of Testing framework
Types of frameworks
Tools for developing Test Framework
TestNG introduction and Configuration with eclipse
TestNG Annotations and Data Providers
Creating Test Suit with TestNG
Develop Hybrid Framework
Duration: 06:00:00
Developing Hybrid Framework for Web Application using WebDriver /TestNG and Maven
Use external Data for Testing (Excel sheet, xml files, Property file)
Reading and understanding reports
Screenshots of failed Test case
Configuration Management
Duration: 04:00:00
Jenkins Installation
Maven Installation
Dependencies and configure Maven Project
Integrate Maven projects in Jenkins.
Selenium trainer Profile & Placement
Our Selenium Trainers
More than 10 Years of experience in Selenium Technologies
Has worked on multiple realtime Selenium projects
Working in a top MNC company in Chennai
Trained 2000+ Students so far
Strong Theoretical & Practical Knowledge
certified Professionals
Selenium Placement Training in Chennai
More than 2000+ students Trained
97% percent Placement Record
980+ Interviews Organized
Selenium training Locations in Chennai
Our Selenium Training centers
Adyar
Ambattur
Adambakkam
Anna Nagar
Anna Salai
Ashok Nagar
Choolaimedu
Chromepet
Ekkattuthangal
Guindy
Kodambakkam
Madipakkam
Mylapore
Porur
Saidapet
T. Nagar
Tambaram
Vadapalani
Velachery
Villivakkam
Virugambakkam
Selenium training batch size in Chennai
Regular Batch ( Morning, Day time & Evening)
Seats Available : 8 (maximum)
Weekend Training Batch( Saturday, Sunday & Holidays)
Seats Available : 8 (maximum)
Fast Track batch
Seats Available : 5 (maximum)