Best DevOps Training in Bangalore
Besant Technologies offers Best DevOps Training in Bangalore with most experienced professionals. Our Instructors are working in DevOps and related technologies for more years in MNC's. We aware of industry needs and we are offering DevOps Training in Bangalore in more practical way. Our team of DevOps trainers offers DevOps in Classroom Training, DevOps Online Training and DevOps Corporate Training services. We framed our syllabus to match with the real world requirements for both beginner level to advanced level. Our training will be handled in either weekday or weekends programme depends on participants requirement.
The mentors focus on a student-centered approach to assist everyone to grasp the core DevOps concepts and secure placement in the MNCs subsequentially. In order to be familiar with the certification course completely, you are always welcome to visit our DevOps Training Institutes in Bangalore and have a person-to-person interaction with the faculty regarding duration, fees, and course module.
Besant Technologies is growing with established faculty who can train and groom the beginners for the excellent DevOps Training Course in Bangalore . Here, one can opt for customized training, one-to-one training, classroom training, and online training to have a thriving career and secure a handsome starting salary.
About Course
DevOps Training in Bangalore provides you a detailed knowledge on various topics like Puppet, Jenkins, Ansible, Git, Docker, Cucumber, Nagios and Kubernetes. This training in Bangalore is entirely with hands-on exercises and planned in a method that aids in becoming a certified DevOps Engineer. DevOps Certification Training in Bangalore is well recognized to prepare and develop a best career in DevOps with various training methods and tools. Live demos of the top-most famous DevOps tools, in-depth blended learning, Lifetime access to the self-planned learning process, flexible timing for both students and employees are some of the best features afforded by DevOps Classes in Bangalore.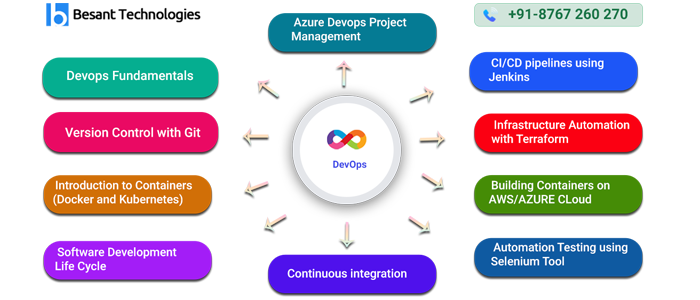 Why Besant Technologies for Devops Training
Anyone can decide our institute as the best DevOps Training Institute in Bangalore as we have a complete automated process which could track the entire pre and post training events that happens over here. DevOps classes in Bangalore is packed with regular updates and perfect reminder set up on each process, aiding the users to get use of it on regular basis. DevOps courses in Bangalore has a bunch of experts who can train every individual and evaluate their technical skills. This kind of evaluation is helpful in paying attention on some key points where the lacking is seen. By this way, all the learners are benefited to enhance their unknown skills as well. DevOps Certification Training in Bangalore is not restricted to any time or location. Users can easily contact the team from anywhere and at any time. Flexibility is a very good option for all the studious people as they can get what need in their own. That is how our DevOps classes in Bangalore is set up.
What you learn from this Devops Course
Our team is said to be the best DevOps training institute in Bangalore because we do offer various courses for many locations at reasonable price. Azure DevOps Engineer Expert, AWS Certified DevOps Engineer, Docker Administration and Operations, Advance Docker administration, Introduction to DevOps on Oracle Cloud, Configuration Management with Puppet and few more courses are available in our DevOps Certification Training in Bangalore. Weekend or Weekdays classes, different time slots, Real time training, 24/7 live support, Placement Oriented Training, Placement assistance, Live Constructor, Job Oriented training and few more attractive features available in DevOps Training Institute Bangalore.
Due to these effective concepts followed in DevOps Certification Training in Bangalore, there are many learners and existing students availing all these benefits. All our experts are well qualified to provide all the required Job Support and placement support; hence Job oriented training has become popular in our training institute. Hurry up to enrol in this best DevOps Training Institute in Bangalore and grab the essential number of seats as soon as possible.
DevOps Training Key Features
We do offer Fast-Track DevOps Training in Bangalore and One-to-One DevOps Training in Bangalore . Here are the major topics we cover under this Linux Basics, Bash, Ansible Git, Maven, Docker, Jenkins, and AWS. Every topic will be covered in mostly practical way with examples.
Besant Technologies offers DevOps Training in Bangalore in more than 9+ branches with expert trainers. Here are the key features,
30+ Hours Course Duration
100% Job Oriented Training
Industry Expert Faculties
Free Demo Class Available
DevOps Training Batch Schedule
Here are the DevOps Training Classes in Bangalore Schedule in our branches. If this schedule doesn't match please let us know. We will try to arrange appropriate timings based on your interest.We mentioned the course timings and start date as well in below.
Answer 3 Simple Questions
Get upto 30%* Discount in all courses. Limited Offer. T&C Apply.
DevOps Training Syllabus
Total Duration-35hrs
Module1: Introduction to DevOps (Duration-1hr)
DevOps Principles in detail
DevOps Engineer Skills in the market
Knowing DevOps Delivery Pipeline
Market trend of DevOps
DevOps Technical Challenges
Tools we use in DevOps
Module 2: GIT – A version control tool (Duration-5hrs)
Knowing about Version control
Git – A CLI
Essentials of GIT in industry
How to setup GIT

Installing Git
First-Time Git Setup
Getting a Git Repository

Working with various commands in GIT
Recording Changes to the Repository

How to check the Status of Your Files
How to track New Files
Staging our modified files
Ignoring Files from GIT
Viewing Your Unstaged and Staged Changes
How to commit Your Changes
Skipping the Staging Area and commit
Removing Files from GIT

Viewing the Commit History

Limiting Log Output
Using a GUI to Visualize History

Undoing Things

Changing Your Last Commit
Unstaging a Staged File
Unmodifying a Modified File

Working with Remotes

Showing Your Remotes
Adding Remote Repositories
Fetching and Pulling from Your Remotes
Pushing to Your Remotes
Inspecting a Remote
Removing and Renaming Remotes

Branching and Merging in Git

What a Branch Is
Basic in Branching and Merging
Branch Management in GIT
Branching Workflows and its usage
Remote Branches – create and delete
Rebasing

Git workflows
Git cheat sheet
Module 3: Jenkins – Continuous integration (Duration-10hrs)
Essentials of Continuous Integration
An example scenario where CI is used
Know about Jenkins and its architecture in detail
Jenkins tool Management in detail
Installing Jenkins
Post-installation setup wizard

Unlocking Jenkins
Customizing Jenkins with plugins
Creating the first administrator user

Know about User management in Jenkins
Authentication

Jenkins own database user creation
Options to enable integration with LDAP

Authorization

Matrix based authorization
Project based authorization

Overview of Maven

Maven project structure
Maven plugins
Project Object Model (POM) – fundamental unit of work in Maven project
Maven build lifecycle
Adding external dependencies to maven pom.xml
aven build and test project

Creating jobs and automatic build settings

What is Jenkins Pipeline?
Why Pipeline?
Integration with GIT
How to enable project based authorization for a job
Source code management while creating jobs
Triggering automated build
Maven job setup
Know about post build options for jobs like notifications, trigger another build, publishing reports, etc.

Adding a slave node to Jenkins
Building Delivery Pipeline
Notification settings in Jenkins
Plugin management in Jenkins
Module 4: Docker – A containerization technology (Duration-8hrs)
Introduction

Real-world Shipping Transportation Challenges
Introducing Docker and its technology
Understanding of Docker images and containers

Working with container

How to Share and copy a container
Container Life Cycle
How to use Base Image and customize
Creation of Docker File
How to Publish Image on Docker Hub

Introduction to Docker Networking

Network Types in docker technology
Docker Container Networking
Docker Compose – An introduction

Docker Swarm – An introduction

Use Docker Compose to create php, wordpress, mysql
How to Start Containers on a Cluster with Docker Swarm
Creating and Scaling an application in Docker swarm
Module 5: Ansible – A configuration Management (Duration-9hrs)
Introducing Ansible – A configuration management tool

Basics / What Will Be Installed
Understanding Ansible architecture
Control Machine Requirements
Managed Node Requirements

Inventory

Hosts and Groups
Host Variables
Group Variables

Learn various ansible Modules
How to use adhoc commands

Parallelism and Shell Commands
File Transfer
Managing Packages
Users and Groups
Deploying From Source Control
Managing Services

Introduction to YAML script
Playbook

About Playbooks
Playbook Language Example - YAML
How to Write Playbooks
Tasks in Playbooks
Understanding about various tasks in playbook
Introduction to Handlers and variables
Learn about using handlers, variables in the playbook
Become (Privilege Escalation)

Roles

Role Directory Structure
Using Roles
Role Duplication and Execution
Role Default Variables
Role Dependencies
Role Search Path
Ansible Galaxy

Including and Importing

Includes vs. Imports
Importing Playbooks
Including and Importing Task Files
Including and Importing Roles

Writing a playbook to install and configure webservers and deplo0y an application
How to create Ansible Role and use it
Using an ansible role in playbook
How to use Ansible Galaxy to download roles.
Example – Install and use Jenkins roles from ansible galaxy
Module 6: DevOps on Cloud (Duration-2hrs)
Essentials of Cloud computing?
Cloud and virtualization architecture
Cloud deployment architecture
Cloud providers – An overview
Why we need DevOps on Cloud?
Introducing to Amazon web services
Various AWS services for Devops - An overview
DevOps using AWS - Demo
The highly qualified trainers have designed a curriculum in such a way which adheres to rapidly changing global industry requirements. For the DevOps Training in Bangalore , the mentors have put special emphasis on Docker, Python, Ansible, Jenkins, Maven, AWS, Linux Administration and GIT.Also, understanding the booming market growth, the DevOps training curriculum at Besant Technologies promises you a flourishing career and a stable future.
DevOps Training Reviews
Our Besant Technologies Bangalore Reviews are listed here. Reviews of our students who completed their training with us and left their reviews in public portals and our primary website of Besant Technologies & Video Reviews.
Besant Technologies Placements in Bangalore
Besant Technologies located in various places in Bangalore. We are the best Training Institute offers certification oriented DevOps Training in Bangalore . Our participants will be eligible to clear all type of interviews at end of our sessions. We are building a team of DevOps trainers and participants for their future help and assistance in subject. Our training will be focused on assisting in placements as well. We have separate HR team professionals who will take care of all your interview needs. Our DevOps Training in Bangalore Course Fees is very moderate compared to others. We are the only DevOps training institute who can share video reviews of all our students.
Besant Technologies offers placement opportunities as add-on to every student / professional who completed our classroom or online training. Some of our students are working in these companies listed below.
Placed Students Testimonials
Besant Technologies Official Branches in Bangalore
Besant Technologies branches in bangalore are listed here. And most popular locations where students / professionals are lining up to get trained with us.
BTM Layout
No 2, Ground floor, 29th Main Road, Kuvempu Nagar, BTM Layout 2nd Stage, Bengaluru, Karnataka 560076
Jayanagar
No. 1575, 2nd Floor, 11th Main Rd, 4th T Block East, Pattabhirama Nagar, Jayanagar, Bengaluru, Karnataka 560041
Rajajinagar
No. 309/43, JRS Ecstasy, First Floor, 59th Cross Bhashyam Circle, 3rd Block, Rajajinagar, Bengaluru, Karnataka 560010
Marathahalli
No. 43/2, 2nd Floor, VMR Arcade, Silver Springs Layout, Munnekollal Varthur Main Road, Near kundalahalli gate signal, Marathahalli, Bengaluru, Karnataka 560037
Indiranagar
No.54 1st Floor, 5th Main Road, HAL Old Airport Rd, Behind Hotel Leela Palace, HAL 2nd Stage, Kodihalli, Bengaluru, Karnataka 560008
Electronic City
Ganga Enclave, No. 7, 3rd Floor, Village, Doddathoguru, Neeladri Rd, Karuna Nagar, Electronics City Phase 1, Electronic City, Bengaluru, Karnataka 560100
Hebbal
No.29, 2nd Floor, SN Complex, 14th Main Rd, E Block, Sahakar Nagar, Extention, Bengaluru, Karnataka 560092
HSR Layout
Plot No. 2799 & 2800, 1 st Floor, 27th Main Rd, 1st Sector, HSR Layout, Bengaluru, Karnataka 560102
Kalyan Nagar
No.513, CMR Main Rd, HRBR Layout 2nd Block, HRBR Layout, Kalyan Nagar, Bengaluru, Karnataka 560043
DevOps Training Locations in Bangalore
Besant Technologies branches in bangalore are listed above. And most popular locations where students / professionals are lining up to get trained with us.
DevOps Training in Jayanagar
DevOps Training in Indira Nagar
DevOps Training in Malleswaram
DevOps Training in Koramangala
DevOps Training in Hebbal
DevOps Training in Banashankari
DevOps Training in Ulsoor
DevOps Training in Basavanagudi
DevOps Training in Whitefield
DevOps Training in KR Puram
DevOps Training in HRBR Layout
DevOps Training in HSR Layout
DevOps Training in Electronic City
DevOps Training in Bellandur